LIC Jeevan Lakshya : Table No. 833
USPs of LIC Jeevan Lakshya
In Built PWB
For the Benefit of Family and CHild Education
If Policy acquires Paid-U Value, even if lapsed, the benefit will be payable as per reduced Sum Assured( Dear Paid-up S.A.)
Higher Death Benefit at low Premium with value added Rider.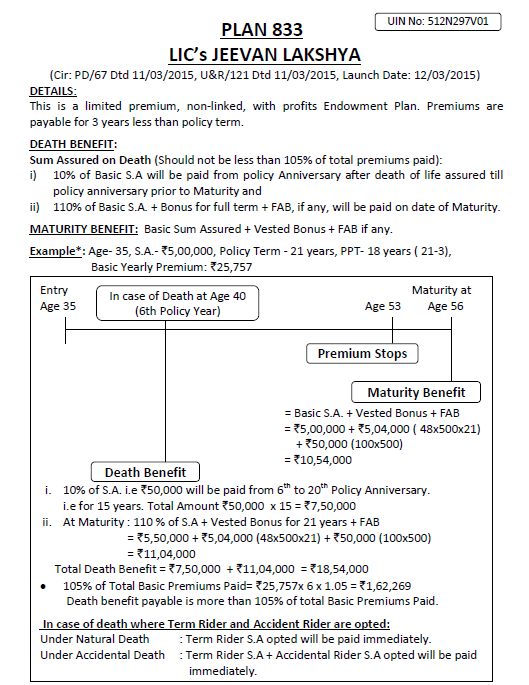 Benefits
Death Benefits : Annual Income Benefit + Assured 110% of Basic S.A. + Vested Simple Reversionary Bonus + F.A.B (If Any)
Maturity Benefit: S.A. + Bonus + F.A.B (If Any)
Silent Features
Age : 18 Yrs Completed to 50Yrs
Policy Term : 13-25Yrs
Premium Paying Term : Policy Term Less 3 yrs
Minimum S.A. : Rs1,00,000/- (then multiple of 10,000/-)
Accidental death & Disability rider : Optional (Overall Limit 1 Cr.)
Loan Facility: Available after 3 years
Revival: Withing 2 years from the Date of FUP
LIC Jeevan Tarun : Table No. 834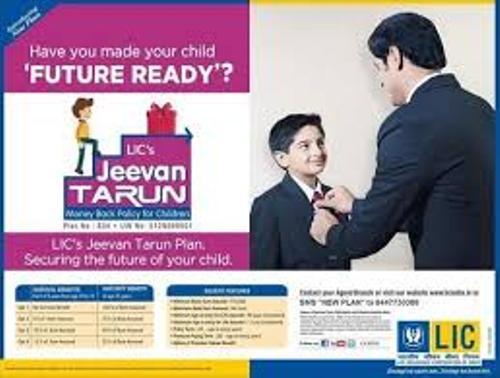 A Unique Plan exclusive for Children
To meet the educational expenses
To head start career after education
To meet the marriage expenses
To meet other needs of a growing child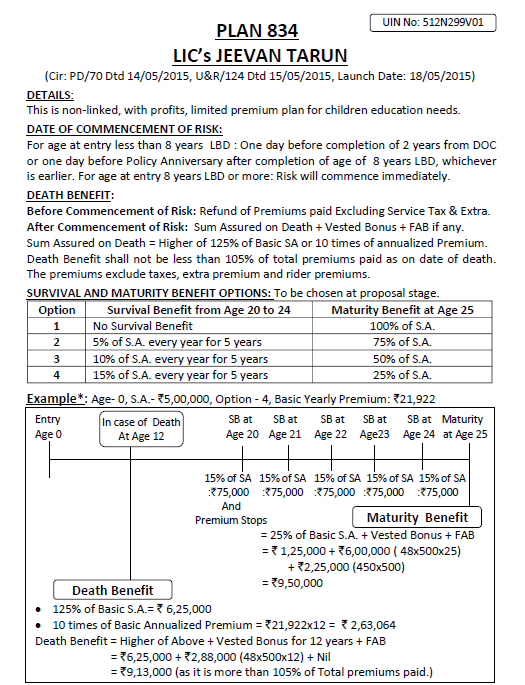 Children Money Back Plan : Table No. 832
It is a non-liked with profit insurance plan with
Money Back Programme
Optional Benefit on Survival Benefit
Money Back comes at the age of 18yrs, 20yrs & 22 Yrs of the child.
Can be taken in the name of the child.
The Child should be 90days to 12 years of age.